Support Staff
Our Hygienists and Therapist
We have a highly trained hygiene team dedicated to your best oral health and preventive dental care.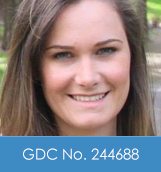 Louisa Henry
Dental Therapist/Hygienist
GDC No 244688
Joined the team in January 2015 and works in all three practices (Barnton, Bruntsfield and LW Dental).
In addition to the duties of a dental hygienist, a qualified dental therapist is also trained to perform:
routine restorations in both deciduous and permanent teeth on adults and children
pulp therapy treatment of deciduous teeth
placement of pre-formed crowns on deciduous teeth
extractions of deciduous teeth
Louisa is available on Thursdays.
Miriam Tuttle
Dental Hygienist
GDC No 161256
Joined the team in 2017.
Miriam graduated from Cork University Dental School & Hospital in 2014, gaining her diploma in Dental Hygiene.
Miriam is very keen and has a special interest in preventative dental health and treating nervous patients.
Miriam is available Tuesday and Wednesday.
Sharon Dunthorne
Dental Hygienist
GDC No 6651
Sharon started with us at Barnton Dental in 2021 and works Monday and Friday.
---
Our Dental Nurses
Gayle
Receptionist/Dental Nurse
GDC No 166412
Joined Barnton as full time Dental Nurse in March 2009. Full time receptionist from October 2012 and is your first contact when visiting or calling the practice.
Nazia
Dental Nurse
GDC No 270529
Joined the team in July 2016. Nazia works part time assisting the clinicians.
Dennise
Dental Nurse
GDC No 127267
Joined Barnton August 2014
Gillian
Dental Nurse
GDC No 136963
Joined the team in 2019
Amrita Singh
Trainee Dental Nurse
Amrita started with us in 2021 and is currently attending Edinburgh College.
---
Management Team
Erin K Wilkie
Practice Manager
GDC No 143829
Erin has twenty years dental nursing experience, having worked in general practice and public dental service and also 11 years at the Edinburgh dental institute. She has gained additional qualifications in dental radiography, impression taking and clinical photography to name a few.
Erin started as the practice manager in February 2020 and aims to help the practice provide the very best patient care and services.
---
Languages spoken within the practice include: Polish, and Italian.